AXA, Global Leader in Insurance
Headquartered in Paris, the AXA Group is a worldwide leader in insurance and asset management, with 160,000 employees serving 105 million clients in 62 countries. It is focused on the world's major markets particularly in Europe, North America, and the fast-growing economies in Asia Pacific. As a global leader in financial protection, it supports both individuals and businesses at every life stage by providing exceptional personalized solutions and services including insurance, personal protection, savings, and wealth management.
Strong International Presence
The AXA Group is committed to international expansion and has already established a strong presence in the Asia-Pacific Region, maximizing opportunities for future growth. In 2017, IFRS revenues amounted to Euro 98.5 billion and IFRS underlying earnings to Euro 6.0 billion. AXA had Euro 1,439 billion in assets under management as of December 31, 2016. The AXA Group is included in the main international SRI indexes, such as Dow Jones Sustainability Index (DJSI) and FTSE4GOOD. It is a founding member of the UN Environment Programme's Finance Initiative (UNEP FI) Principles for Sustainable Insurance and a signatory of the UN Principles for Responsible Investment.
AXA – The Best Global Insurance Brand
AXA was once again recognized as the number one insurance brand globally by Interbrand for the ninth consecutive year (2009-2017).
According to Interbrand, the world's leading brand strategy and design consultancy firm, AXA has strengthened its reputation and value by joining the Top 50 global brands in the "Best Global Brands" ranking by moving two slots higher to 46th place, in addition to being the top global insurance brand and the third best brand across all financial services. With 14% increase from the previous year, the AXA brand is now valued at USD 10.579 billion.
About AXA Philippines
AXA Philippines is a joint venture between the AXA Group and the Metrobank Group, one of the country's largest financial conglomerates.
AXA Philippines is one of the largest and fastest growing life insurance companies in the country, offering financial security to more than 800,000 individuals through our group and individual life insurance products.
AXA has more than 3,000 financial advisers in 32 branches, and 700 financial executives in over 900 Metrobank and PSBank branches nationwide. With its recent full-acquisition of Charter Ping-An, AXA Philippines has entered into non-life insurance business, providing Filipinos a range of financial protection to suit their needs today.
Board of Directors

Dr. George S.K. Ty
Group Chairman/Director
Solomon S. Cua
Chairman
Arthur V. Ty
Vice Chairman
Fernand Antonio Tansingco
Vice Chairman
Rahul Hora
Member/President and CEO
Gordon Watson
Member
Nicolas Fauvarque
Member / Treasurer
Alesandra T. Ty
Member / Treasurer
Ronaldo C. San Jose
Member
Jaime C. Laya
Independent Director
Lope M. Yuvienco
Independent Director
Jameson Ong
Adviser to the Board
Angelica S. Reyes
Corporate Secretary
Jill Marie B. Lopez
Asst. Corporate Secretary
Aric Justin Ty
Asst. Corporate Secretary

Senior Management Team

Rahul Hora
President and CEO
John Hilson
Chief Transformation & Technology Officer
Alokkumar Arunkumar Rungta
Chief of Retail Propositions
Ma. Amor T. Balagtas
Chief Customer Officer
Nicasio F. Rollan III
Chief of Commercial Business
Aleta Y. Lepatan
Chief Operations Officer
Ronaldo C. San Jose
Chief Financial Officer
Jaspreet Singh Kakar
Chief Human Resources Officer
Maria Faustina Raymundo
Chief Distribution Officer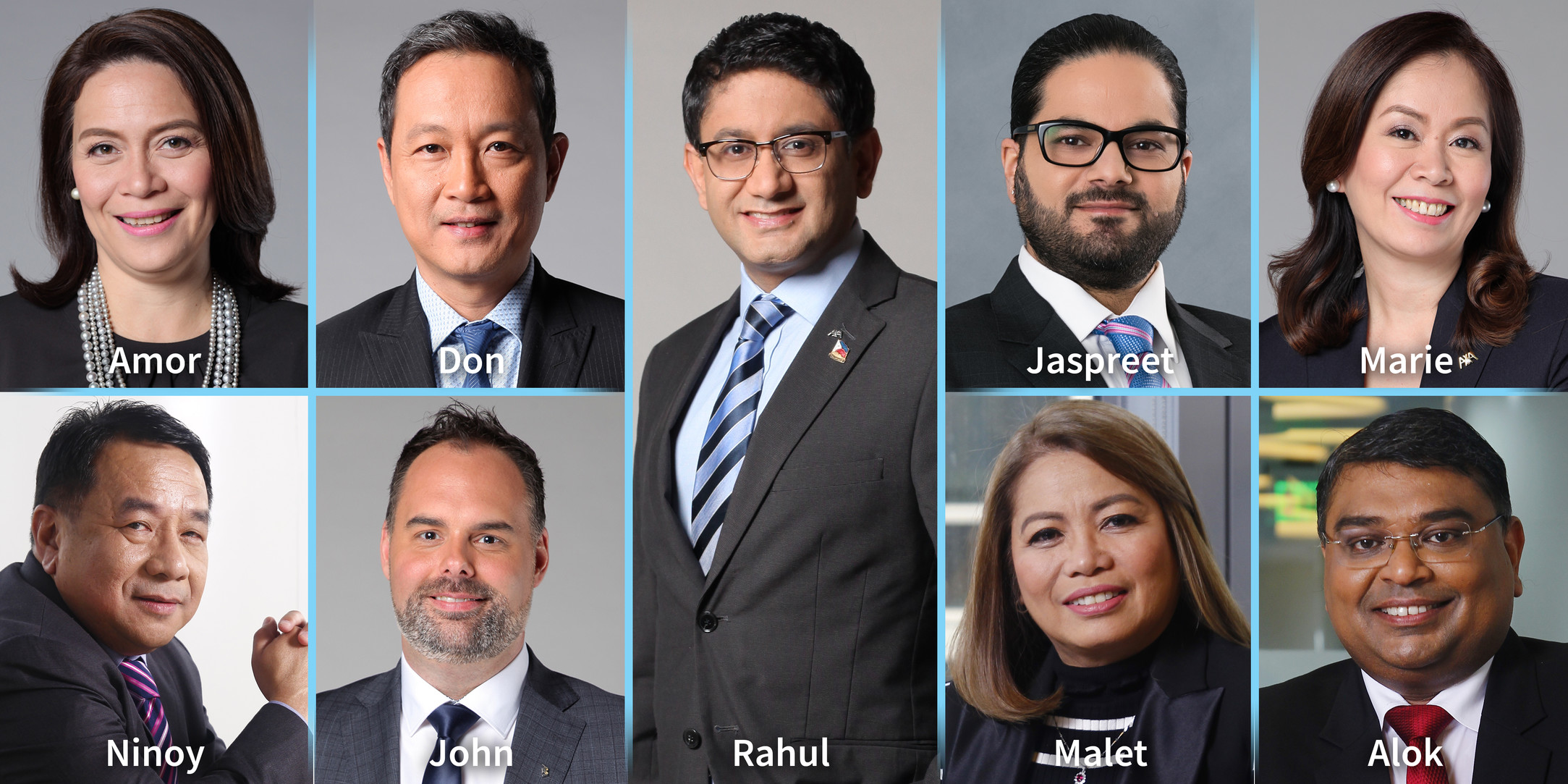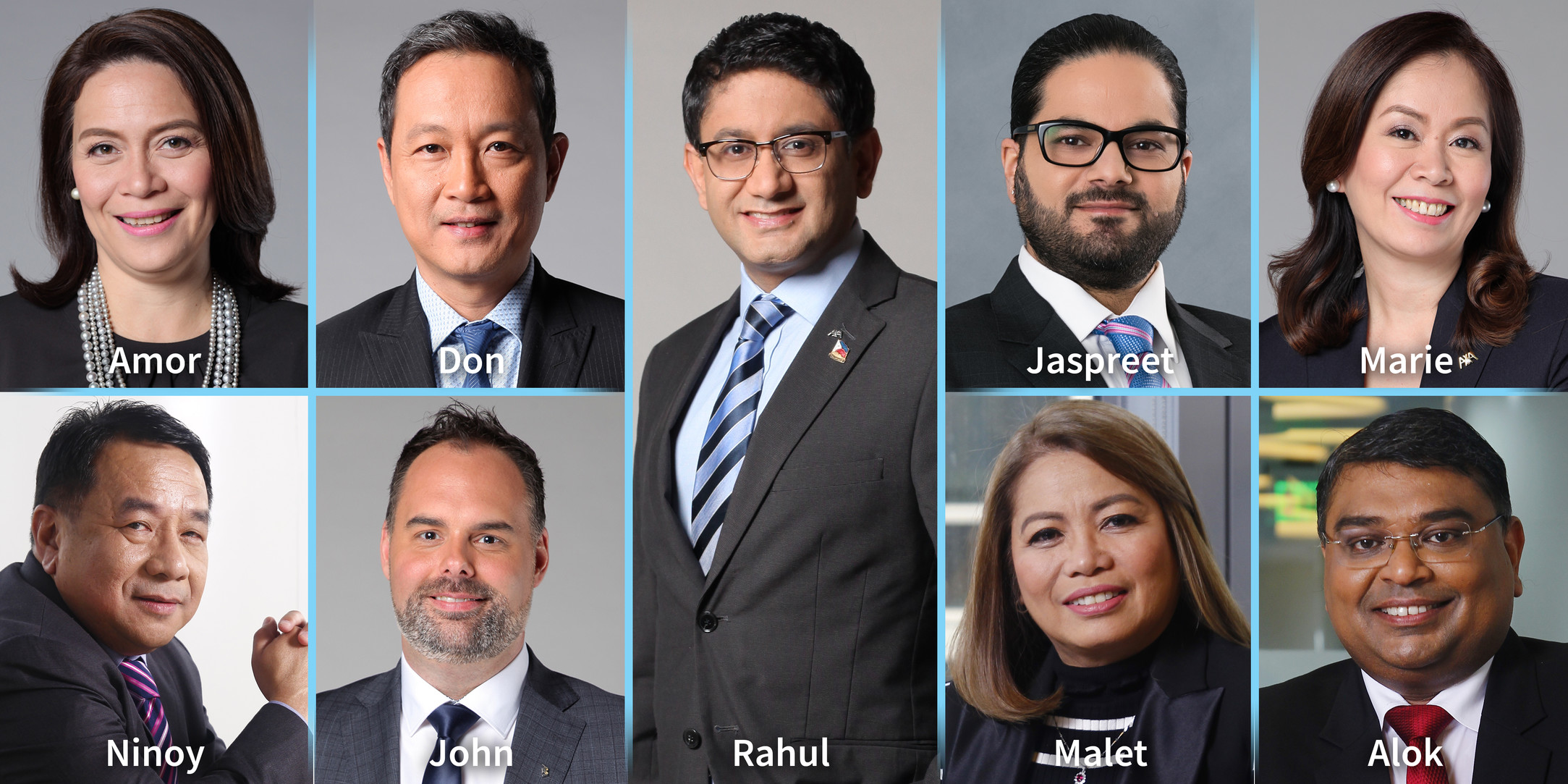 AXA Philippines is committed to maintaining good Corporate Governance within the Company and recognizes that this can only be achieved through the Board's Management and Employee's actions to fulfill its goals and objectives in a manner that adds to the value of the Company and beneficial to its stakeholder.